Welcome to The Business Edit.
Just like organizing your home or home office ala Clea & Joanna @ The Home Edit, we're going to work together to audit and clean up your online presence, edit your copy, and categorize what goes where. Then I'm going to leave you with a fabulously useful – easy to use – worksheet that you can use to maintain your brand messaging and your aesthetic across all of your social channels and even on the homepage of your website!
After signing up below, you'll receive a link to download the worksheet via email.
It's all completely free!
About the Business Edit Worksheet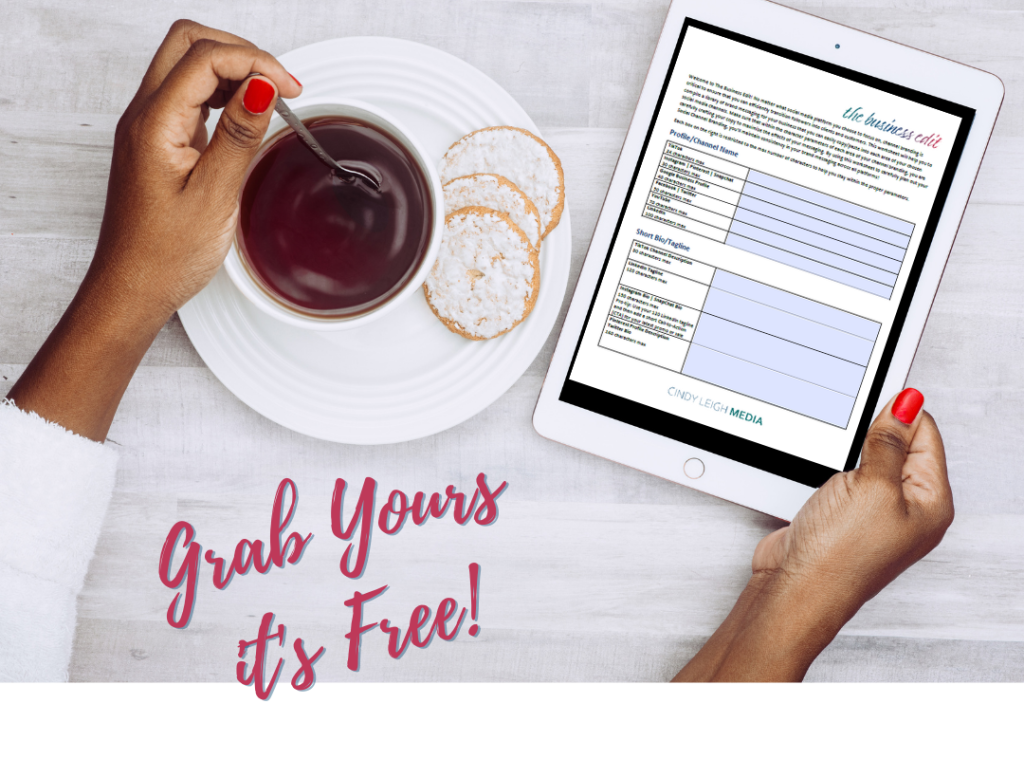 This worksheet is set up with editable boxes that have character count limits built in – specific to each social media channel. You just type in the box and it will automatically cut you off when you've reached the allotted space.
I've done the work for you to map out exactly what the character limits are for each area of your chosen channel's Profile/Channel name, bio/tagline, and short, medium, and long-form descriptions for the main social media channels including:
Facebook
Instagram
TikTok
Youtube
Snapchat
Twitter
Pinterest
LinkedIn
Google Business Profile
Set the worksheet up once and then all you have to do is copy/paste your branded, clear, and consistent copy whenever you need it!
You'll also find a handy guide 2022 Social Media Channel Branding Image Size Guide for all the graphics you'll want to brand your channel with including profile images, cover images, and more.
After downloading the guide, keep your eye on your inbox and follow me on Instagram and/or Facebook for more tips on how to use the worksheet and brand your digital media like a boss!
Once you sign up above, an email will be sent to you within minutes with a link to download the worksheet. If you don't see it, check your junk/spam folders and be sure to mark us as "not spam".
‼️ Gmail users, be sure to check your "Promos" tab and drag the email over to your "Primary" tab so you don't miss future emails from Cindy Leigh Media.